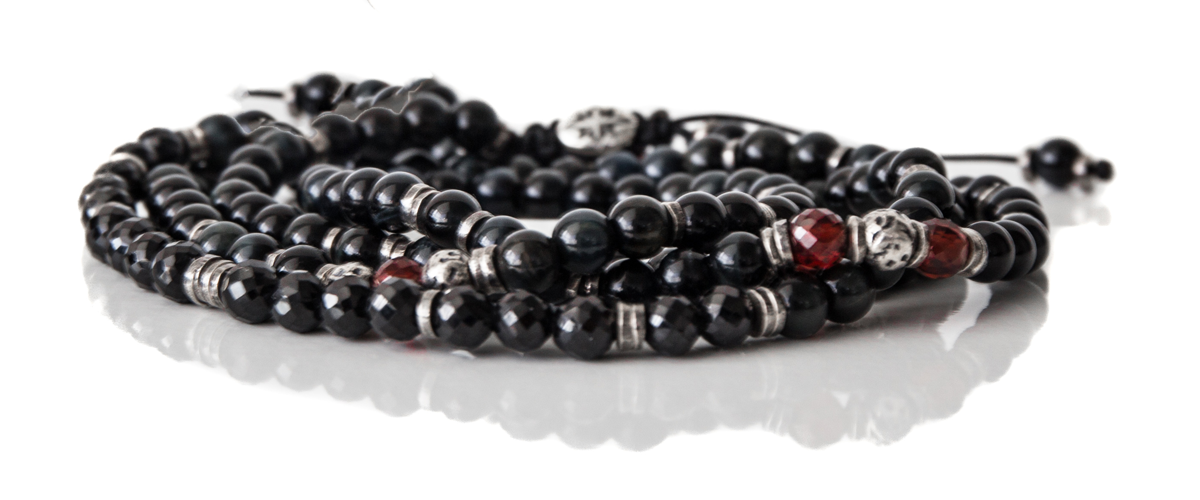 Why JAKE?
The beauty of our jewellery lies in its timeless quality. Each one of the unique, handcrafted, artisan pieces in our collections is made in the UK, using only the most exquisite and exceptional materials sourced all over the world. Behind the energy-giving powers of crystals, gems, stones and minerals, lies a spirit of rebellion and our particular celebration of individuality through charm, class and authenticity.
For Whom?
Our bespoke, personalised jewellery is made for everyone, men and women, whatever your style. Our gemstone bracelets are the perfect guilty pleasure for those who love fashion but appreciate the value of individuality. Gemstones are not there to give you a certain emotion or power - they tap into already existing capabilities and enhance your inherent qualities to bring out the best in you.
When?
At all times! Feel more balanced, sharper, more rock'n'roll… Remember every piece is beautiful in its own way, but it is also a tool for your soul. Wear them to lift your spirit, to relax you, to empower you. The North Star will guide you and our skulls will remind you to make the most of life! Our materials, colours and their symbolism are endless, meaning there's a JAKE for every moment.
If you're a jewellery lover, bracelets are probably a key part of your collection. With so many styles to choose from, building a collection of bracelets […]
Maybe you're a beginner looking to get started with jewellery making, or maybe you're an experienced maker who's in a creative slump. Either way, looking at […]

Birthstones allow you to connect your birth month with a rare and unique gemstone. As many of the stones have vivid colours, they look beautiful in […]

For many people, the value of jewellery goes well beyond the monetary value. In addition to adding beauty and prestige to an outfit, some jewels have […]
YOUR PERSONALITY,
YOUR STONE
Each and every one of our personalised bracelets is made to suit you. Cool, edgy and minimalist, what you wear reflects who you are.
STONES & GEMS
Aquamarine, turquoise, garnet, spinel, sapphire… When we say there's a stone for everyone, we mean it. Each one of us has a birthstone; a stone for every month of the year, and they all have different meanings and purposes. The therapeutic powers of birthstones are unlimited and wearing your birthstone will enhance your natural talents and express who you are.
MEANINGFUL CREATIONS
Antique silver will get shinier with use, which means your experience of our jewellery will modify it and enhance it. Our skulls are a classic rock'n'roll symbol, but they also relate to the Latin memento mori, a reminder that life is short and you need to live it to the fullest! And we wouldn't go anywhere without our North Star, the best and oldest way to find your path.
ONE OF A KIND
Our pieces are a work of love and dedication, all handmade in the UK. We source our materials in different parts of the world, then it all comes together at our studio in the heart of London. You might share your birthstone with some people, but you can rest assured no two bracelets are the same. And why would they be? Every single JAKE creation is just as unique as you are!
---
JAKE Values
Wearing Gemstones to Enhance your Life
At JAKE, we celebrate the power of the individual - and this is visible throughout our unique, high-end range of gemstone jewellery. Jewellery is about so much more than accessorising, making a fashion statement or obeying trends. The ancient art of Lithotherapy, the name given to the unique energy healing effects of crystals, stones and minerals, is our guiding principle. Gems and stones have the power to guide, heal, enhance wellbeing and, most importantly of all, express your uniqueness. Just like with your wardrobe, your jewellery doesn't wear you - it's an extension of your unique personality, reflecting who you are. Our jewellery is born out of an all-consuming fascination with the healing properties of natural stones and acts as a reminder to seize the moment and celebrate who you are!